Sunday Supper Club - Chicken Tikka Masala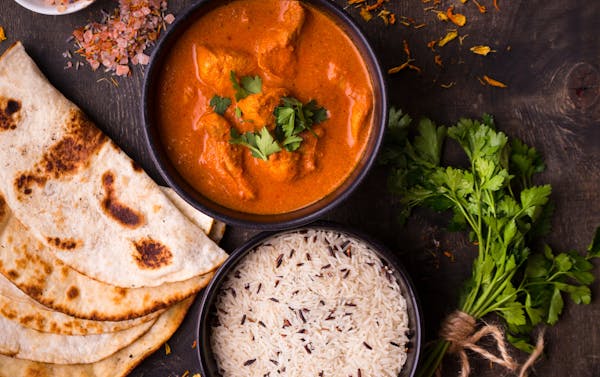 INGREDIENTS
1 1/2 lbs boneless, skinless chicken thighs, cut into 2-inch pieces
1 head cauliflower, cut into florets (about 4 cups)
2 cups small frozen peas, thawed
2 cups chopped onion
2 Tbsp. finely chopped garlic
1.5 Tbsp. finely chopped ginger
2 seeded and minced Serrano chiles (NOTE: leave seeds in one or both if you want a spicier dish!)
1/2 cup cilantro, chopped
1/2 cup unsalted chicken stock
1 (28-oz) can plum tomatoes
1 cup half & half or coconut milk
1 cup plain yogurt, divided
1/2 cup sliced almonds
2 Tbsp. olive oil
1 tsp. cumin
1/2 tsp. cinnamon
2 Tbsp. garum masala, divided
1/4 tsp. cayenne pepper
2 1/2 tsp. kosher salt, divided
1 1/2 cups brown rice
Optional: naan
KITCHEN TOOLS
Knife
Cutting board
Baking sheet
Aluminum foil
Large skillet or pot
Wooden spoon
Ziploc bag or bowl for marinating chicken
INSTRUCTIONS
Cook the rice according to package instructions.
Marinate the chicken. Preheat oven to 425°. Place chicken, 1/2 cup yogurt, and 1 tablespoon garum masala in a bowl or Ziploc bag. Toss to coat and set aside 15 minutes.
Crush the tomatoes. Drain liquid from tomatoes. Place drained tomatoes in a bowl, crush (preferably with your hands), and set aside.
Roast the chicken. Place marinated chicken on a pan lined with foil; roast 8-10 minutes or until browned and cooked through.
Sauté and stew it up! Meanwhile, heat oil in a large skillet over medium-high heat. Add onion, garlic, ginger, and serranos. Saute until slightly softened, 2 minutes. Stir in remaining garum masala, cumin, cinnamon, and cayenne. Cook 1 minute. Stir in tomatoes, chicken stock, cauliflower, and half-and-half (or coconut milk). Simmer until thickened, 6 to 7 minutes. Stir in cooked chicken, peas, and half of the cilantro.
You're done. Spoon into bowls over rice, and garnish with remaining cilantro, almonds, and yogurt. Serve up and enjoy!