Sunday Supper Club - Thai Coconut Curry Shrimp + Veggies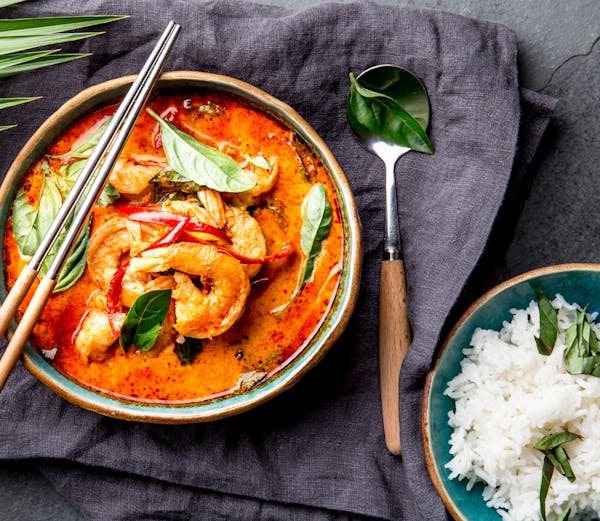 INGREDIENTS - CURRY SAUCE
2 (14 oz.) cans coconut milk
1/4 cup red curry paste
3 Tbsp. honey
2 Tbsp. soy sauce OR tamari (GF)
2 tsp. kosher salt
1/3 cup lime juice
6 sprigs mixed herbs (cilantro, basil)
INGREDIENTS - STIR FRY
2 Tbsp. neutral oil (avocado, sesame, canola, grape seed; OO is OK, too)
1.5 lbs peeled + deveined raw shrimp (alternatives! 1.5 lbs chicken breast OR 1 block of tofu)
4 cups small cauliflower florets
3 cups Lacinato kale, thinly sliced
1/2 cup thinly sliced radishes
2 small bulbs spring garlic, thinly sliced
1 medium yellow onion, thinly sliced
1 large red bell pepper, chopped
1 tsp. kosher salt
Lime
Torn leaves of basil and cilantro
1/2 cup chopped peanuts OR cashews
Brown rice (sticky or long grain)
KITCHEN TOOLS
Knife
Cutting board
Large sauté pan
Sauce pan
Wooden spoon
Can opener
INSTRUCTIONS (cook time 30-35 minutes)
Cook rice according to package instructions. Keep warm.
Make curry sauce. Place coconut milk, curry, honey, soy sauce, and salt in a saucepan. Whisk until smooth. Heat over medium-high until bubbling, reduce heat to medium, and simmer 5 minutes. Remove from heat. Stir in lime juice and herbs. Let stand 10 minutes. Remove herbs.
Sauté shrimp and vegetables. Heat oil over medium-high in a large skillet until it shimmers.* Add garlic and onion; cook until softened, stirring occasionally, about 2 minutes. Add bell pepper; cook 1 minute or until slightly softened. Add cauliflower, shrimp, and salt. Cook, stirring occasionally until shrimp are almost opaque.
Finish curry sauce and pour over shrimp and veggies. Add 2 cups coconut curry sauce; bring to a simmer. Cook 2 minutes. Stir in kale. Cook until shrimp are done, kale is wilted, and cauliflower is tender.
Garnish and enjoy! Remove curry mixture from heat. Squeeze a lime over the top and garnish with radishes and torn herbs. Spoon rice into wide bowls. Top with curry mixture and sprinkle with chopped nuts.
*NOTE: If you're substituting chicken for shrimp, add cubed chicken to the sauté pan before you add the garlic and onion (Step 3). Brown the chicken for 3-4 minutes (it will not be cooked all the way through). Remove browned chicken from the pan and set aside. Proceed with the recipe as it's written, then when the recipe calls to add the raw shrimp, add the browned chicken to the pan and follow the recipe from there. If you're substituting tofu for shrimp, follow the instructions as they are written and stir in the cubed tofu when the recipe calls for the raw shrimp.